Viva Las Vegas! PEM Surface at the Golf Industry Show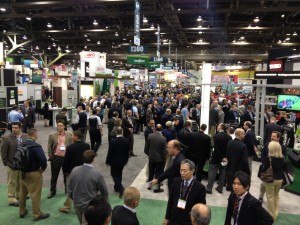 Wow! What a great couple of days we had at the 2012 Golf Industry Show on February 29th and March 1st! PEM Surface Creations looks forward to this event year after year, and 2012 was no different. We enjoyed two jam-packed days at the Las Vegas Convention Center in sunny Las Vegas, Nevada.
It's always nice to see a familiar face, and there were plenty in the crowd at the Las Vegas Convention Center. The Golf Industry Show gave us a great opportunity to catch up with current distributors and clients – educating them on new additions to the product line, providing 2012 pricing, discussing potential applications for the upcoming golf season, and discussing previous applications.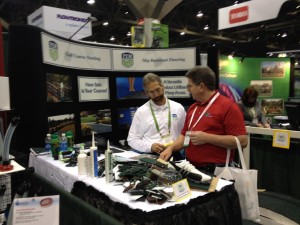 We love hearing feedback on our clients' experiences utilizing the PEM products on their golf course applications. PEM High Traffic Matting continues to be well received as the "best product available" to reduce slips and falls on the golf course. Many customers at the event said it's "the best product out there," and after having our same matting on their courses for 7-10 years, we think they'd know! What a great compliment to our products' longevity and performance.
PEM also unveiled the new PEM High Friction matting to rave reviews. The new matting features an aluminum oxide grit which is combined with a urethane binder, creating a high friction surface coating. This new product is designed for the toughest applications, with a focus on safety and durability. The latest releases in golf footwear seem to be trending towards less of a spike, and our new PEM High Friction matting works perfectly to protect against slips and falls, even on slick, wet surfaces.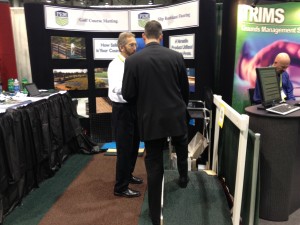 We love to keep things fresh and new in the exhibit booth. This year, we added the PEM Walk Bridge – a real walking bridge, providing clients an opportunity to get a true feel of walking on PEM. This true-to-life application will certainly become a staple at future golf shows!
PEM also made several great connections to further our international distribution. With talks underway in countries like Australia, Singapore, South Korea and Japan, PEM is on its way to covering the world, one application at a time. We hope to establish relationships in some of these new international distribution areas, joining our existing networks in Mexico and Canada.
Want to learn more about the new PEM High Friction matting? Give us a call today!