PEM Lightweight Matting
PEM Lightweight Matting features a lighter construction for easier handling. It can be easily rolled up or laid out and its unique textured surface prevents the mat from sliding out of place.
Our Lightweight Matting is additionally porous, eliminating standing water and reducing the risk of slip-related injuries. It's easy to maintain and can be cleaned quickly, making it an ideal surface for mats and runners where daily cleaning may be necessary.
Benefits include:
Added porosity allows water to drain through and dry quickly
Textured surface helps matting stay securely in place
Can be easily lifted and handled for hassle-free cleaning and maintenance
Rolls up for convenient storage and transportation
Trims easily with razor knife for custom fitting and installation
Provides a slip-resistant surface, even while wet, that reduces fall/slip related injuries
Recommended Applications
Indoor pool and aquatic facilities
Runners and mats for spas, restrooms, locker rooms and shower rooms
Residential applications:

Pool decks and walkways
Personal use boat docks and landing stages


Standard Colors

Blue

Sandstone

Grey

Hunter Green
Standard Matting Sizes
| | |
| --- | --- |
| Mats | Rolls |
| 2x5 | 2x15 |
| 3x5 | 3x15 |
| 6x5 | 6x15 |
| 2x10 | 2x25 |
| 3x10 | 3x25 |
| 6x10 | 6x25 |
25 ft. rolls are stocked in all four colors listed above -
5, 10, 15 ft. mats/rolls are stocked in sandstone, grey and blue.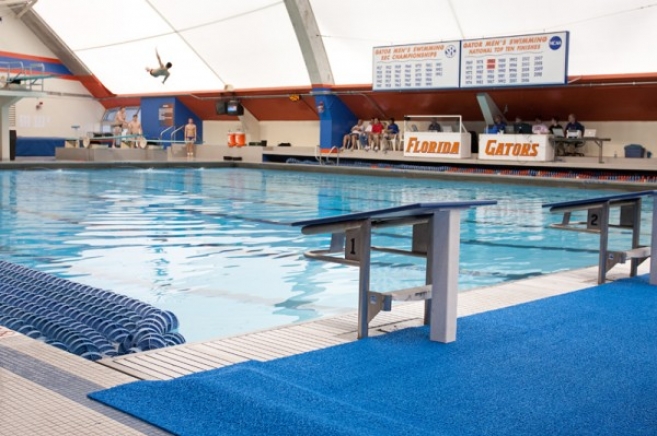 ---
Customer Testimonial
2012 Olympic Trials
"PEM Surfaces are the only product I have considered in hosting world-class swimming competitions. The product looks super on TV, and is very manageable to install. Never had an issue on quality, or product delivery, as this company fully understands the needs of the event."
Harold Cliff,
Chief Operations Officer


Our Lightweight Matting in Action