PEM's High Friction Matting is created when a surface coating featuring an aluminum oxide "grit material" and urethane binder are applied to either PEM Lightweight Matting or PEM High Traffic Matting.
Our High Friction Matting provides additional slip-resistance and durability, making it an ideal choice for the toughest, wettest applications.
High Friction Coating Features:
Added durability
Better traction for increased slip resistance
Specially pigmented to match color of matting
Protects matting from scrapes and scuffs
Can be applied to existing PEM Lightweight and High Traffic Matting applications
Recommended Applications
Areas with fast-paced foot traffic
Consistently wet environments
Walkways or bridges built on slopes


To request more information about our High Friction Coating, fill out our contact form or you can give us a call at 314.783.2358.
Our High Friction Matting in Action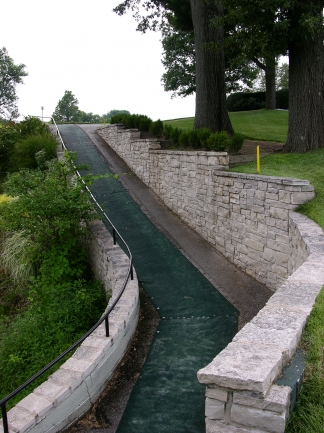 ---
Customer Testimonial
Meadowbrook Country Club


"The poly extruded mat was easy for country club staff to install and required no specialty tools, just the razor knife, straight edge, and caulk gun. The mat provides excellent drainage, and has reduced the risk of slips and falls.

The High Friction aluminum oxide grit coating that was promised by your staff functioned as promised and we are thoroughly pleased."

Tim Dorsey
Facilities Manager
Download Full Testimonial