PEM High Traffic Matting can benefit a wide-range of industries including, but not limited to: golf courses, aquatic centers, marine and dog kennels. PEM's slip-resistant matting provides a textured surface that reduces slippage in high traffic areas, along with a soft construction that provides padding on points of harmful contact and comfort to barefoot traffic.
Using a poly extruded matting made from soft plastic, PEM High Traffic Matting is designed with a porous looping construction that creates a durable and soft textured surface. The porous construction allows moisture to flow through or evaporate to eliminate standing water and reduce algae growth.
Benefits Include
Porous construction eliminates standing water
Allows for moisture evaporation eliminating algae growth
Trims easily with razor knife for custom installations
Excellent weatherability: -35 F - 180 F
Cleans easily with sweeping or by hose
Reduces the risk of slippage
Easily rolls up for convenient storage and transportation
Able to withstand high levels of traffic
Approximate Thickness: 3/8"
Recommended Applications
Bridges, steps, and walkways on golf courses
Outdoor pool and aquatic facilities
Dog kennels and pet care facilities
Boat docks and marinas
Standard Matting Sizes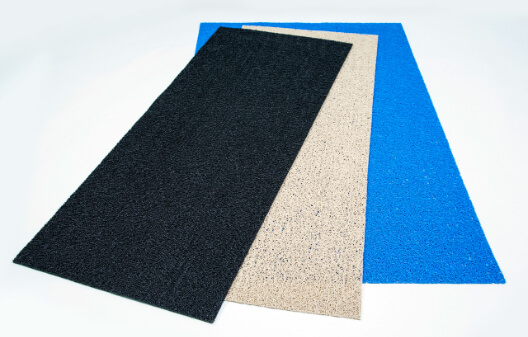 Mats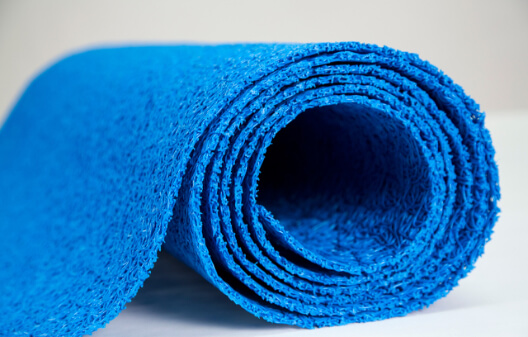 Rolls
Standard Colors

Blue

Black

Sandstone

Chocolate Brown

Gray

Hunter Green
Customer Testimonial
Bellerive Country Club
Host of the 2013 Senior Championship and 2008 BMW Championship
"Prior to hosting the 2008 BMW Championship here at Bellerive, we were looking for a quality, functional and aesthetically pleasing surface cover for the existing foot bridges on the course. The PEM material fit our needs perfectly. No more slipping with soft spikes and the surface blends well with the surroundings."
Chuck Gast,
Golf Course Superintendent