Yoga Flooring
PEM Yoga Flooring is the ultimate surface for commercial or residential yoga studios. Our Yoga Flooring is slip-resistant and porous, allowing moisture to drain through quickly and completely, keeping the surface dry and comfortable.
PEM understands that the safety of your clients is very important. The material used in our yoga flooring is cushioned and forgiving, which helps prevent joint or knee injuries and the slip-resistant properties reduce fall-related injuries.
Benefits include:
Unique textured surface is slip-resistant, even under wet conditions
Porous design eliminates standing water as moisture quickly drains through the surface
Prevents the growth or mold or algae by allowing moisture beneath surface to evaporate
Anti-microbial formula prevents odor-causing bacteria, mold, or mildew from forming
Cleans easily with sweeping, vacuuming or steam cleaning
Cushioned surface is comfortable for bare feet and protects against knee and joint injury.
Recommended Applications
Yoga studios
Bikram or hot yoga
Pilates classrooms
Cross-fit or body weight workout areas
Standard Colors

Sandstone

Black

Blue

Chocolate Brown

Grey

Hunter Green
Standard color for PEM Yoga Flooring is sandstone - samples will be sent in this color. Black, blue, chocolate brown, grey and hunter green flooring is available by request and require a 2100 sq. ft. minimum purchase.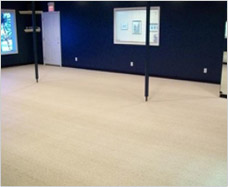 ---
Customer Testimonial
Bikram Yoga Hampden


"Running a Bikram Yoga studio for five years I am so excited to be expanding our hot yoga from 1,500sq ft. room and look forward to installing another 450sq ft of the PEM flooring. All of my students love it. When they go to other studios they come back and rave about how much better "our" studio is. Music to my ears! It is so safe, I never worry about anyone slipping, and it easy to clean. The best part is it doesn't start to smell like carpets do after only a few months. Five years of daily use and it is as good as new, absolutely no wear and tear.

Thanks for this amazing product. I am so happy to be ordering it again!"
Sarah Ittmann,
Director

To request more information about our Yoga Flooring, simply fill out our contact form or give us a call at 800.783.2358.
Our Yoga Flooring in Action: