PEM Surface Swim Competition and Event Matting
PEM Surface Aquatic Matting is the ultimate surface for promoting athlete safety during swim meets, competitions, and professional level events.
Our matting was designed for athlete safety in mind. The unique textured surface of PEM Aquatic Matting eliminates standing water and provides added slip-resistance in wet conditions.
The soft plastic construction also provides added comfort for bare feet, and it is lightweight for easier placement and removal.
The bright colors of our matting will also improve the look of your facility and we can even help develop custom design options for your specific event.
From school tournaments to professional events, our aquatic matting fits a wide variety of needs - we have supplied matting to numerous high profile events, including:
USA Swimming National Championships
US Olympic Trials
Duel in the Pool
NCAA Women's Swimming and Diving Championships
SEC Swimming and Diving Championships
California State High School Championships


Benefits Include:
Textured surface reduces slippage under wet conditions
Antimicrobial formula guards against the growth of mildew, fungi, and bacteria.
Porous design eliminates standing water and dries quickly
Soft plastic construction provides comfort for bare foot traffic
Protects bare feet from splinters on wood surfaces
Lightweight for easy handling - can be quickly rolled out for the event and rolled up and stored immediately after
Will not hold or absorb water
Trims easily with a razor knife for custom fitting in all areas
Cleans easily with sweeping or wash down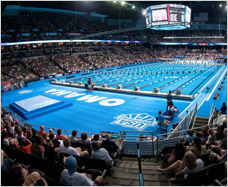 ---
Customer Testimonial
USA Swimming


"PEM Aquatic Matting has been the perfect slip resistant solution for USA swimming events. The matting has furthered our brand image and increased on-air visual appeal, all while protecting our world-class athletes. No other surface cover could match PEM's combination of design features, safety benefits, and durability."
Dean Ekeren,
National Events & Marketing Director



Photo Gallery